Thursday, April 21, 2005
Busy Busy Busy!
Just a quick note, getting to ready for a weekend on the road in Hong Kong...going to try posting to the blog from Victoria Peak if the wireless arrangement on my laptop works!
Lots to talk about, not time to say it. Did watch NHK this morning and they showed some N. Korean news broadcasts. They are unique to say the least. Imagine a broadcaster standing up and shouting the news at you! No lie that is how they do it, he does not report, he exhorts. Lots of concern here in Japan about the coming N. Korean -Japan soccer game in June.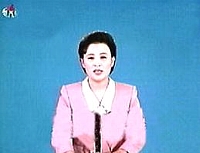 Good Morning from the Worker's Paradise!
Ja Ne! Off to the station and then catch the train for Narita. Next time you have to go a long way to the airport, remember me......2.5 hours in train rides when its all done. Thank God for cold beer in the lounge.
Skippy-san